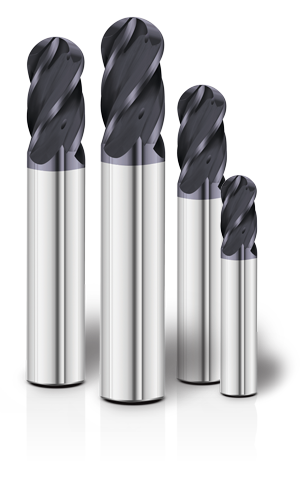 Hurricane™ Solid Carbide, Coolant-Fed Ball Nose End Mill
Product Overview:
CFT Systems tool designed to minimize the effects of harmonics while machining to maximize tool life and metal removal rates. The solid carbide Hurricane™ Series 925 Ball Nose End Mill has four individually designed flutes that work together to reduce vibration.
Applications:
Designed to rough and finish in one operation.
Capable of machining intricate aerospace parts without changing tools during multiple-axis machining.
Key Product/Performance Features:
4 Individually Designed Flutes
Variable Helix
Variable Index
Variable Rake
Right Hand Spiral
Right Hand Cut
Center Cutting
Superior Core Strength
h6 Shank Tolerance
Multi layer coating with terrific levels of oxidation resistance and hot hardness. Outstanding frictional properties.
Ordering Information
PART NUMBER
TOOL DIAMETER

SHANK DIA.
FLUTE LENGTH
OVERALL LENGTH
INCH
DECIMAL
925-02500
1/4
.2500
.2500
3/4
2-1/2
925-03750
3/8
.3750
.3750
1
3
925-05000
1/2
.5000
.5000
1-1/4
3
925-06250
5/8
.6250
.6250
1-1/2
3-1/2
925-07500
3/4
.7500
.7500
1-1/2
4
To order, Call Toll Free: 800-600-2248 • Fax: 216-481-9966
Sales e-mail: sales@cftsystems.com • www.cftsystems.com
CFT Systems™, A George Whalley Company,
specializes in the development of off-the-shelf and custom-application coolant-fed tooling & systems for customers worldwide.